The Next Meeting is :
July 29, 2014
at 7:00 PM
and will be at the
Gaston County
Citizens Resource Center 1303 Dallas-Cherryville Hwy.
Dallas, NC
Plan to attend !
For more information, contact the Cooperative Extension Office at
704-922-2112
---
Researchers at NC State University recently published results of a study that indicates that bee species diversity enhances productivity and stability in crops that are highly dependent on bee pollination.
Click here to read a copy of the article.
Queen Rearing Workshop
July 19, 2014
9 AM - 5 PM
Learn the basics of raising your own queens. We will hold the workshop at Bryan Fisher's apiary in Kannapolis.
Cost of the workshop is $20. We have limited spaces available, so register early. To register, and for more details, contact Tamela Bell at (704) 824-3293 or
(980) 329-6705.
Gaston County Bee School
Field Day 2014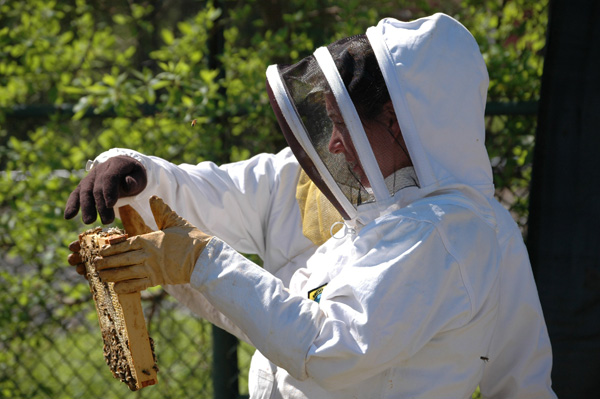 Gaston County Beekeepers Association held its 2014 Field Day for its recent Bee School graduates at the bee yard of Alternative Beverage in Belmont, NC on Saturday, April 26, 2014. Students received hands-on instruction on donning bee suits, lighting smokers, opening and inspecting hives. Experienced beekeepers demonstrated the proper techniques for inspecting a hive and showed students the different types of honeybees (workers, drones and the queen), pointed out newly laid eggs, developing larva, and capped brood. They also pointed out curing and capped honey and pollen stores. Students also had the opportunity to remove and examine frames, observe some small hive beetles and see some queen cells.
Following the hive inspection, students and their familes, along with members of the association enjoyed a bar-b-que lunch, followed by delivery of their packaged bees.
The Gaston Beekeepers Association would like to thank Mr. Jess Faucette, owner of Alternative Beverage, for making his apiary and picnic area available to our students for this year's Field Day.
North Carolina State Beekeepers Association
Summer Conference 2014
July 10 - 12, 2014
Wilkes Community College, Wilkesboro, NC
Don't miss out on this opportunity to meet with other beekeepers from around the state and increase your knowledge of bees and beekeeping by attending what promises to be an outstanding conference. Click here to go to the conference website.
---
Club Officers
President:
Allen Thompson

Vice President:
Burton Beasley

Secretary:
Debi Wheeler

Treasurer:
Dan Turner

Program Coordinator:
Tamela Bell

Newsletter Editor:
Debi Wheeler
Web Page Editor:
Jim Burke
SWARM REMOVAL
Click here to go to our 2014 list of beekeepers who will remove honey bee swarms from your property.