The Next Meeting is :
November 25 , 2014
at 7:00 PM
and will be at the
Gaston County
Citizens Resource Center 1303 Dallas-Cherryville Hwy.
Dallas, NC
Plan to attend !
For more information, contact the Cooperative Extension Office at
704-922-2112
---
Researchers at NC State University recently published results of a study that indicates that bee species diversity enhances productivity and stability in crops that are highly dependent on bee pollination.
Click here to read a copy of the article.
Honey Contest
Our honey contest was a big success! Thirteen beekeepers entered their best honey. Click here to see contest results. .
Gaston County Beekeepers
at Cotton Ginning Days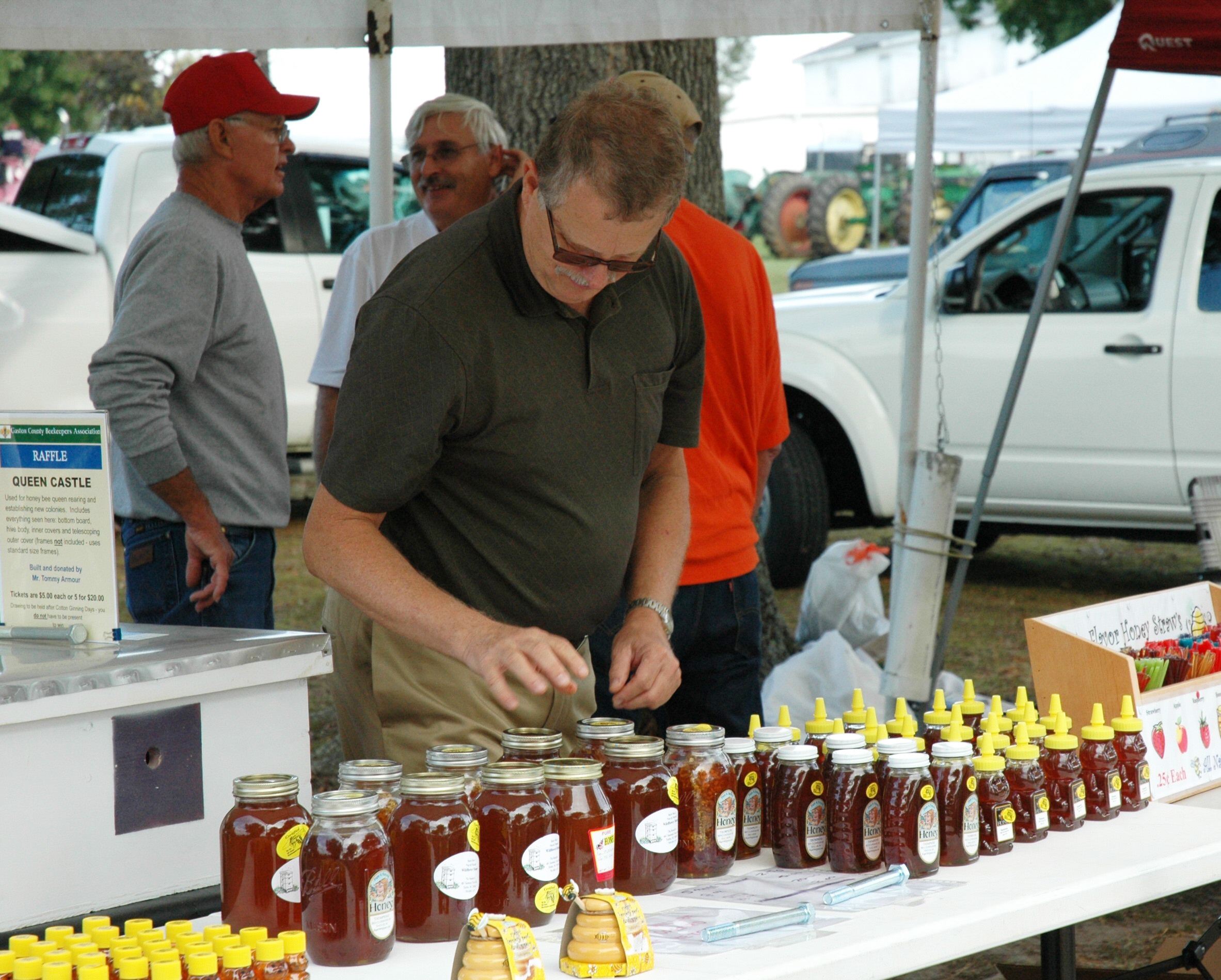 Gaston County Beekeepers Association (GCBA) once again participated in the annual Cotton Ginning Days celebration at Dallas Park, Ocober 10 - 12, 2014. This event is sponsored each year by the Gaston Agricultural, Mechanical and Textile Restoration Association (GAMTRA) and the Gaston County Parks and Recreation Department. GCBA members were on hand to provide the public with information about the importance of honey bees, give visitors a glimpse into an actual hive in the bee cage, provide information about our association's events and the upcoming bee school and, of course, local honey and honey products.
Gaston County Beekeepers Association
Annual Bee School - 2015
The GCBA is holding their annual Bee School beginning Monday, January 26, 2015 at 7 PM. Learn everything you need to know to get started in beekeeping. Click here for more information.
---
Club Officers
President:
Allen Thompson

Vice President:
Burton Beasley

Secretary:
Debi Wheeler

Treasurer:
Dan Turner

Program Coordinator:
Tamela Bell

Newsletter Editor:
Debi Wheeler
Web Page Editor:
Jim Burke
SWARM REMOVAL
Click here to go to our 2014 list of beekeepers who will remove honey bee swarms from your property.